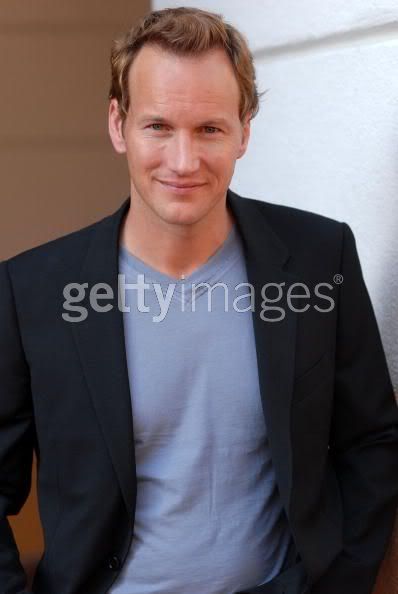 Patrick on the Red Carpet at the 2009 Sunscreen Festival Screening of "Passengers"
Another busy news week for Patrick Wilson Fans!
2009 Sunscreen Film Festival
The

big news

this week was the Fourth Annual Sunscreen Film Festival in St. Petersburg, Florida. Patrick was the star of the Opening Night Events. There was a screening of "Passengers" (his film with Anne Hathway), followed by a Question & Answer session and then a private VIP reception. The next day he participated in a Panel Discussion and taught a class for the Actors Workshop.
Two reps from our
Main Fan Site
attended these events and a gave us play-by-play reports

HERE

.

They also are posting their "first hand" report (with photos!)

HERE

.
Patrick's talented Parents:
We know Patrick comes from a talented family but now we can hear some of it in action. There is a Youtube clip of his parents,
Fox13 anchorman John Wilson and his wife, vocal teacher, Mary K Wilson singing the National Anthem
.

More

HERE


Theatre Awards News:

Tony Award Nominations

will be announced on

Tuesday, May 5
and...
Drama League Awards

will be held on

Friday, May 15

at the Grand Ballroom at the Marriott Marquis Hotel in New York. Patrick will be one of the presenters. He's also nominated for the "Distinguished Performance Award" for his work in "All My Sons."
"The Baster"
Patrick's current film with Jennifer Aniston, Jason Bateman and Jeff Goldblum will
be shooting until May 21 in New York City. You can read more HERE about
this project.
"Lakeview Terrace"
The "Hotflick" site has posted many scene stills from "Lakeview Terrace". Check them out
HERE
"Morning Glory
"
In a recent interview, Patrick made these comments about his next project, "Morning Glory" which stars Harrison Ford, Diane Keaton, Rachel McAdam, and Jeff Goldblum:
"That's actually about being behind the scenes of a television show. So, it's very funny. When I met the director, he knew my history, my connection to news anchors and he asked me, 'Does this read true? And I said, yeah but there are a few things.'" Wilson said. "He thought it was very funny. I said, 'Well you asked! I grew up around the business!"
Read more about this project
HERE
"Watchmen"
Paramount announced the "Watchmen" DVD/Blu-Ray release date in the United Kingdom will be July 30, 2009. We're still waiting on news about dates for other locations.